What Can We Do For You?
Looking to pursue the dream of flight? Want to get an advanced rating? Just looking for a great, affordable plane to rent?
See all our services…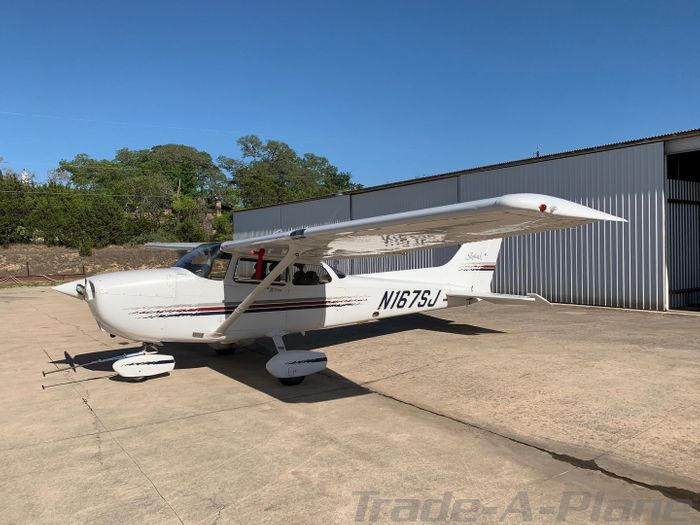 New! 1997 Cessna 172R/S
Air conditioning! 180hp
Available for rent at Austin Bergstrom

See all our aircraft rental options…
Are you already a certified pilot and looking to fly the skies above beautiful Austin, Texas? We have a fleet of highly reliable, well maintained and efficient aircraft to meet your rental needs. If you want to visit friends or family, we also offer very reasonable overnight rentals of our aircraft. We only require a 2 hour minimum on rentals of more than four hours on Monday through Thursday and a 3 hour minimum on rentals of more than four hours on Friday through Sunday. The minimum is charged for each 24 hour period or the actual
flight time whichever is more.
In addition to Private Pilot training, we offer advanced courses designed to meet your individual flying goals. Whether your desire is to fly in Instrument Meteorological Conditions (IMC), to become a professional commercial pilot, to perform advanced maneuvers, or to give back to the aviation community by teaching others to fly, we specialize in making these dreams a reality.
If you've always dreamed of taking the first step in flying, let us help start you on your path! We've taken hundreds of students from their first flight lesson to flying on their own. Our instructors will see you all the way to your exciting first solo flight and then to your private license!
About Above & Beyond Aviation
Founded by longtime Austin resident George Farris, Above & Beyond Aviation is committed to the principle that everyone should be able to enjoy the rewarding and exciting experience of flight.
Located conveniently at Austin-Bergstrom International Airport (KAUS), we provide the local Austin community with thorough, safe and affordable flight instruction. Our highly qualified and diverse flight instructors offer a wide spectrum of experience and training focused on your individual goals. Our well-maintained, economical fleet of student-friendly aircraft will ensure you achieve your aviation goals in no time!
How Our Flight School Began
George Farris found his passion for flying during his first flight in 1967. Unfortunately, he could not afford to get his pilot's license at that time. However, the dream of affordable flight training was never far from his mind. After graduating college, starting a family and creating a successful video game business, George finally had time to return to aviation. He started by taking the University of Texas Informal Classes' Private Pilot class (which he taught for fifteen years until UT cancelled the informal classes). He then joined the University Flying Club, and earned his private pilot's license and instrument rating flying their Cessna 152s.


Above & Beyond Aviation began with a 1977 Cessna 172N, also known as Cessna 733CP. George was a new instructor working with the University Flying Club at UT. He purchased 733CP because the club had difficulty leasing a Cessna 172 and George needed a dependable aircraft with which to instruct his growing base of instrument students. This first aircraft came equipped with dual nav/com radios with glideslope and ADF. George added an IFR-approved enroute GPS and DME, and with this avionics package his students had everything they needed to complete their instrument rating. This commitment to safety and technology formed the basis for what Above & Beyond Aviation has become today.
As the school grew, the fleet expanded to two Cessna 152s, including an Aerobat for aerobatic training, two Cessna 172Rs, and a Piper Arrow for commercial and CFI students. Six additional flight instructors joined the team because they share George's vision of safe, affordable Austin flight instruction. They embody the passion for sharing aviation knowledge and expertise that defines Above & Beyond Aviation.
George believes that everyone should have an opportunity to take a flight, which is why he offers affordable introductory flights for those who may be interested in flying lessons. Above and Beyond is based out of Atlantic Aviation at Austin Bergstrom airport.
As Above & Beyond Aviation grew, George enlisted the help of his wife to fill in the gaps. Eventually, Bobbi joined forces with George full time. Chances are you'll speak to her when you call our offices or you'll exchange emails with her if you have questions.
Bobbi is a born and bred Texan with a long history of owning and operating small businesses. She worked for her father's small business starting at the age of 14 and has been in some form of customer service ever since.
Bobbi believes the magic of aviation has many forms from the obvious thrill of flight to the ability to visit relatives that are flung far and wide across the state of Texas. For her, the best part about helping clients enter into the world of aviation is knowing they'll soon discover that the joy of aviation never ends.
Our Team of Instructors
Above and Beyond's greatest strength is its highly qualified, diverse, and passionate team of instructors. Our instructors take great pride in contributing to your personal success as an aviator. Whether it is your very first lesson or if you are adding on additional ratings to your pilot's license, our experienced instructors craft a training program that suits your goals and thoroughly prepares you for your FAA practical exam. You receive individual, one-on-one attention to ensure that you are meeting your aviation objectives. This is an extremely efficient process that will save you money by focusing on you, your learning style and getting you the most out of each flight lesson!